Two entries with the name Balan.
---
Balan
---
A British count, converted to Christianity by Josephus (Josephe), the son of Joseph of Arimathea.
He richly endowed and enlarged a chapel Pharain had built. It was later occupied by Joseph's follower Parent.
---
Source
Vulgate Estoire del Saint Graal | 1220-1235
---
Balan
Balaan, Balans
---
Born in Northumberland, Sir Balan was a good and unfortunate knight. A knight and younger brother of Balin le Savage in the Post-Vulgate Cycle and Malory.
He helped his brother reconcile with King Arthur by capturing King Rions of North Wales (Ryons), and by joining Arthur's war against Kings Lot and Nero, and the other kings of the second rebellion. After the battle of Tarabel (Terrabil), the brothers separated. Balan slew a knight who guarded a bridge to an island. Forced to assume the duties of his victim, he ended up slaying his own brother, who challenged Balan without recognizing him – they both received a fatal wound.
Tennyson's idyll, Balin and Balan, changes the circumstances of their deaths, relating that Balan came upon an unknown knight trampling his shield, finding out that the knight was his brother only after giving and receiving a mortal wound.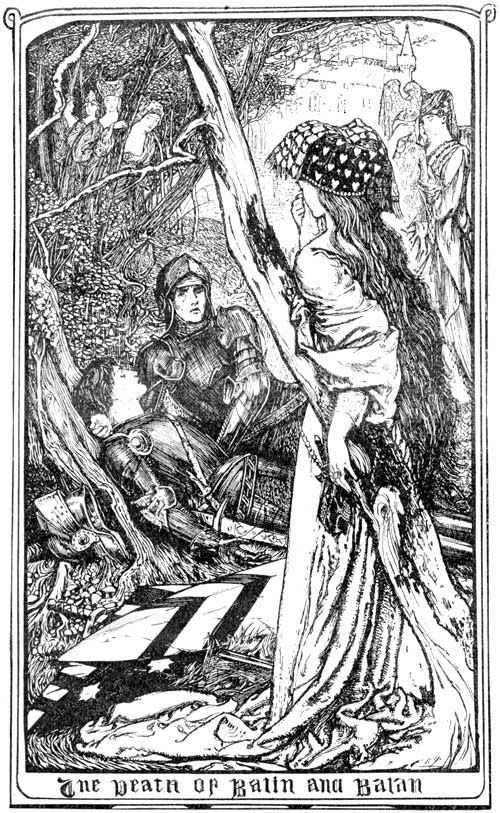 ---
Sources
Post-Vulgate Suite du Merlin | 1230-1240
Le Morte Darthur | Sir Thomas Malory, 1469-1470
Idylls of the King | Lord Alfred Tennyson, 1859-1886
---